April 2022 Newsletter
New Technology Programs Offering Live and In-Person Training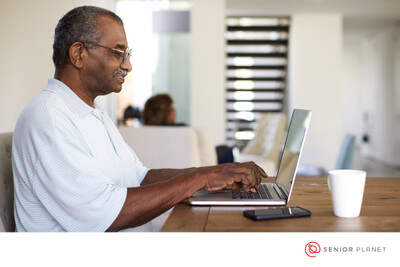 Relaxing pandemic restrictions have affected many of us in recent weeks. While we're excited to see community members, friends, and neighbors again, our new technology programs are vital for keeping us connected in other ways!
CVCOA recently launched partnerships with two different technology programs, Senior Planet and GetSetUp, which will allow us to offer you technology training that fits your life and needs! Read on to learn more about how you can benefit from these programs.
Creative Aging Celebration!
Join CVCOA on Friday, June 3rd between 4pm and 7pm at VCFA in Montpelier for a free Creative Aging Celebration event!
This free community event, held at the Vermont College of Fine Arts (VCFA) during Montpelier's ArtWalk, will feature an exhibit of creative work by participants from the CVCOA Creative Care Kit project, artwork by older artists in the community, and fun creative aging activities.
Food and drink will be available for sale during the event through Cafe Anna. Masks will be encouraged for all attendees and required for those who are not fully vaccinated, including a first booster shot.
If you are interested in exhibiting your artwork during this event, please contact Luke Rackers at [email protected] or 1 (802) 479-1953 by April 30th.
Following this kick-off event, CVCOA will be hosting Creative Aging Celebration events throughout June at our local partner nutrition programs. Full schedule and details to come soon!
Powerful Tools for Caregivers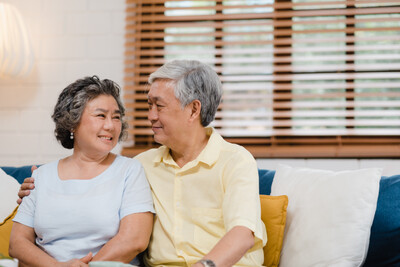 Powerful Tools for Caregivers is a free 6-week course to provide you with the tools to care for your own needs, even as you care for others.
The series equips family caregivers with the resources needed to reduce stress, foster self-confidence, improve communication, and make challenging decisions.
Interactive lessons, discussions and brainstorming will help you take the tools you choose and put them into action for your life. Action planning emphasizing self-care is a major focus of the program.
Class will meet online, Fridays, from 2:00 to 3:30 PM beginning April 15 and ending May 20 (six sessions).
All participants will receive a free copy of The Caregiver Helpbook.
Contact Barb Asen at [email protected] or 1 (802) 476-2681 for more information or to register.
EnVision Vermont: Age-Friendly State Survey
AARP, Community of Vermont Elders, Vermont Dept. of Disabilities, Aging and Independent Living and Vermont Area Associations on Aging have teamed up to create a 10-year action plan for aging well in the state. Share your input and have your voice heard by taking the EnVision survey!
Thank you, Volunteers!
We also want to draw awareness to April themes: April marks Community Service month, and the week of April 17-23 marks National Volunteer Appreciation Week!
CVCOA relies heavily on our volunteer network. These amazing Good Neighbor, Senior Companion, and AmeriCorps Seniors RSVP volunteers help older adults in Central Vermont age at home and in their communities. Our capacity to deliver services and programs is greatly enhanced through the service of these volunteers.
If you have volunteered with us, thank you! We couldn't do it without each and every volunteer.
If you haven't volunteered with CVCOA, and, if you have time, talent, or energy to spare, we would love to have you join our force! Click here to learn more about volunteer opportunities online our website.
All of us at CVCOA want to offer a great big "Thank You!" to the amazing volunteers we have the privilege of working alongside every day.
Check Out CVCOA's Digital Impact Report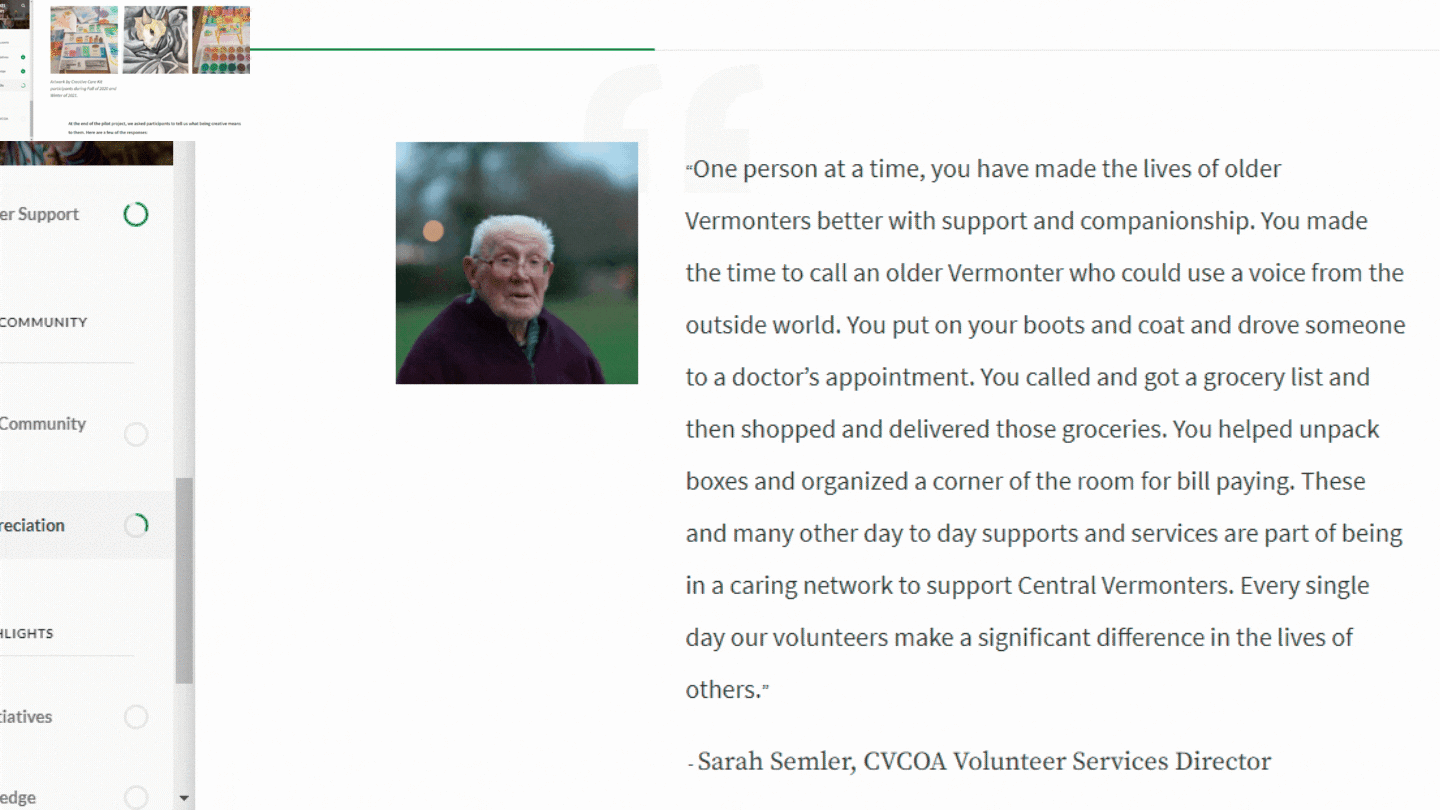 This year, we decided to change things up with our annual report. We're calling it an Impact Report to share with the community the tremendous impact that CVCOA staff, partners, sponsors, volunteers, and individual contributors had in the last fiscal year.
We also created a print version and an expanded digital version, where we have additional information and elements like videos and photos that tell a story of what we do.
Read the Digital Impact Report Here!
GetSetUp Today: Welcome Session April 8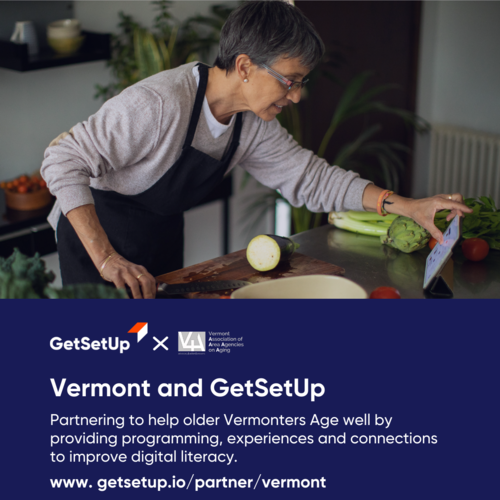 We know a lot of you have heard about and are excited about our partnership with GetSetUp, a virtual social learning platform designed specifically for older adults.
And if you haven't heard, Vermont residents 60+ now have free access to GetSetUp's live interactive classes taught by older adults for older adults to make digital learning, connection, and exploration a reality. The platform offers support via phone in all classes to assist learners with technology and includes a booking system complete with regular reminders and after-class notes.
Learners can choose from a catalog of over 3,000 classes that shift weekly and are available around the clock for the next year. Classes promote digital literacy, socialization, health and wellness, and new learning experiences. Plus, classes are available in multiple languages.
Join us April 8th at 1:00 PM for a welcome session to the platform!
This event will cover a step-by-step guide on how to use GetSetUp, an overview of the classes offered, and more!
Register today for the session on April 8th at: https://www.getsetup.io/classes/welcome-session-central-vermont-council-on-aging/dpTRHupaG
Click here to open a guide to enrolling in GetSetUp classes.
If you need assistance with enrolling in GetSetUp classes, please call the CVCOA Helpline at 1-802-477-1364.
Senior Planet: Live, In-Person Classes and Workshops at CVCOA's Barre Office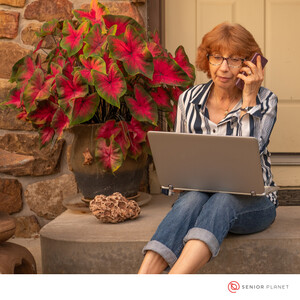 Central Vermont Council on Aging (CVCOA) has partnered with Senior Planet from AARP to help older adults use technology to learn new skills, save money, get in shape, and make new friends.
Classes are hosted at CVCOA's Barre office and are intended for adults 60 and over.
Join the CVCOA community online for programs on populartopics, and learn how you can stay connected!
Upcoming Topics:
iPad Essentials 5-Week Course, May 17 – June 16
Finding Info Online Workshop, April 13
Staying Safe Online Workshop, May 4
Video Chat with Zoom Workshop, May 11
Medicare and You Workshops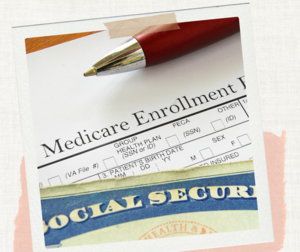 Are you new to Medicare and looking for some help?
Join us Monday, April 11 from 5:00 PM to 7:00 PM on Zoom for our next Medicare & You Workshop.
CVCOA offers this workshop regularly to help individuals who are new to the Medicare system. During the COVID-19 pandemic, CVCOA is offering Medicare & You sessions remotely using Zoom.
If you want to participate, pre-register by calling 802-479-0531 or by sending an email with your name, address, phone number, and the date of the workshop you would like to register for, to: [email protected].
We will then email you information on how to join in the workshop session on Zoom.
Memorable Times Online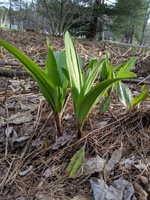 Wednesday, May 4, 10:30 - 11:30 AM
The Wilds of May -- Flora, fauna and foraging!
Come enjoy sharing of stories, memories, music and community at the next Memorable Times Online -- Wednesday, May 4 from 10:30 to 11:30 AM on Zoom.
Contact Barb Asen at [email protected] or 802-476-2681 for the Zoom link or more information.
Memorable Times Online is the virtual memory café partnership between Central Vermont Council on Aging and the ABLE Library of the Vermont Department of Libraries. It meets the first Wednesday of each month from 10:30-11:30 a.m. on Zoom. This dementia-friendly program is free and part of the memory café movement growing all around the world. Registration is required. Get in touch with CVCOA to find out more!
Featured Nutrition Program: Chelsea, South Royalton, and Strafford Senior Centers
All three senior centers that fall under the leadership of Sue Pirie reopen to in-person dining during the first week in April.
Pirie told us, "I have been working as the Executive Director of the Chelsea, Royalton and Strafford Senior Centers for 30 years. I have never seen the changes in the sites the way they have changed due to COVID. It has been trying for all of us. I am very proud of my staff and volunteers for the great work they have been doing through this pandemic. Even though we have grown at all three sites, we have fed all of our clients on the Meals on Wheels program and the curbside pick-up program. We are excited to be re-opening the indoor dining. Hope to see the centers get back to some "normalcy" soon."
Beginning with Chelsea, on April 4, then Royalton on April 5, and Stafford on April 6, each location will begin with a weekly congregant meal. These opening days will feature local musicians at 11 AM. Please call your local site to make a reservation for this meal!
In addition, at the Royalton Senior Center RN Mary Ann Conrad offers a twice monthly foot care clinic. For residents of Bethel, Royalton, Sharon, Strafford, the cost is $10, and for residents of other communities the cost is $20. To make an appointment, call Mary Ann at 802-295-7450.
3SquaresVT: A Ripple Effect of Good
Since the beginning of the COVID-19 pandemic, 1 in 3 Vermont residents has experienced hardships buying groceries.
3SquaresVT, known nationally as SNAP, provides monthly monetary benefits that help Vermont residents stretch their food budgets, ensuring everyone has enough nourishing food to eat. If you meet income eligibility requirements, you will receive monthly benefits on a Vermont EBT card that can be used at many locations where you shop for groceries, including local retailers, convenience stores, and farmers markets.
Every time you buy groceries with 3SquaresVT, you not only put nourishing food on your plate, but that money also goes to support the businesses and local retailers that sell food and local farmers who produce it. When more eligible Vermont residents use 3SquaresVT, our community grows stronger and healthier.
To learn more about how you can benefit from 3SquaresVT, visit vermontfoodhelp.com.
Volunteer Driver Opportunities
CVCOA recruits and coordinates Meals on Wheels drivers and nutrition program volunteer needs throughout Central Vermont.
We need drivers in several locations. If you are interested in getting involved or want to learn more, please contact Anne Greshin, RSVP Program Coordinator, at [email protected] or 802-241-4840.
Direct Service volunteer opportunities are also available including companionship, transportation, grocery shopping, friendly calling, organizing, and more! Learn more and apply online at www.cvcoa.org/volunteer.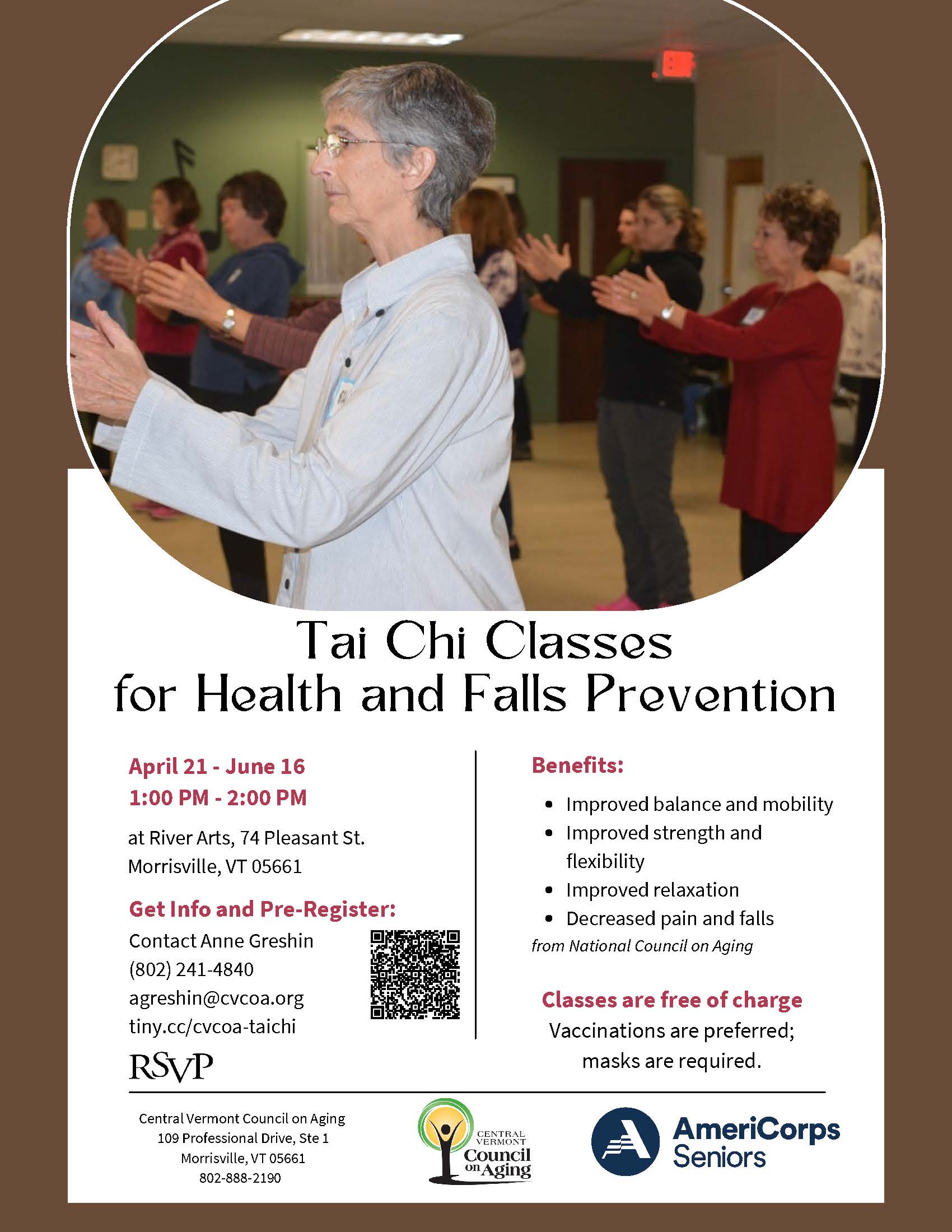 Get Involved, Get Active: AmeriCorps Seniors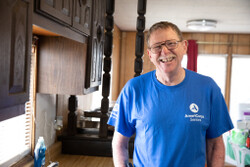 Make giving back your second act! AmeriCorps Seniors volunteers bring their unique skillsets and experiences to help people and communities thrive.
AmeriCorps Seniors programs are open specifically to Americans age 55 and older. Help an older adult live independently when you join Senior Companions. Serve as a friend and companion by providing assistance and friendship to seniors who have difficulty with daily living tasks. The program aims to keep older adults independent longer, and provide respite to family caregivers.
To learn more about joining AmeriCorps Senior as a Senior Companion, contact: Sarah Semler, Director of Volunteer Services, at 802-476-0151 or [email protected].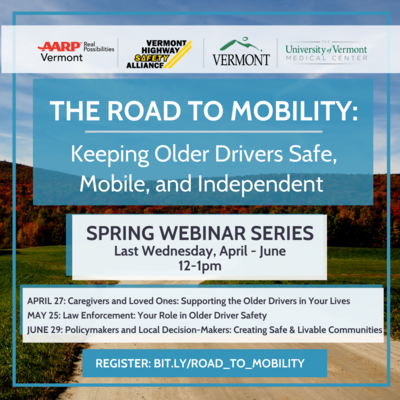 Central Vermont Council on Aging does not charge central Vermonters for the services we provide. Change the lives of older adults in your community. Donate to CVCOA today!
Make an Impact: Join Our Team!
CVCOA has wonderful openings for people looking to contribute to our mission. Visit https://www.cvcoa.org/employment to learn more!